Boston-based Annalivia will bring their cutting-edge "Celtic Americana" string band music to the Branford Folk Music Society's monthly concert series on Saturday, April 13 at 8 p.m. in the auditorium of the First Congregational Church of Branford, 1009 Main St., on the Branford Green.
Annalivia fuses traditional Celtic and American roots music with contemporary folk influences to create an authentic new sound , steeped both in tradition and alive with new energy, innovation and originality.
The group, which will be appearing in a trio format, features Liz Simmons on lead vocals and guitar, Flynn Cohen on vocals, guitar and mandolin and newest member Duncan Wickel on fiddle. All three are world-class musicians and enjoy long histories in playing traditional music, ranging from bluegrass to Irish and Scottish to old-time Appalachian. These styles play a large role in the interpretations of their material, which include inventive, quirky fiddle tunes as well as lushly arranged songs. The members of Annalivia have toured and performed with such notable acts as the John Whelan Band, Aoife Clancy, Cathie Ryan, Adrienne Young, Halali and Ruth Moody.
This concert is funded in part by the New England States Touring Program of the New England Foundation for the Arts, made possible with funding from the National Endowment for the Arts Regional Touring Program and the six New England state arts agencies.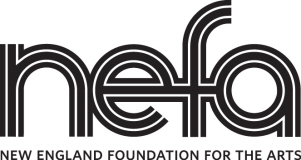 Liz Simmons grew up in New Hampshire listening to her mother sing traditional songs from Ireland, Scotland, England and Appalachia, as well as the New Orleans brass music her father plays. Since then, she has developed a unique vocal and guitar style that incorporates the sounds of traditional and contemporary music. She also performs with Long Time Courting and her singing will be featured in the soon-to-be-released film "Time and Charges", written and directed by Grammy and Emmy award winner Ernest Thompson.
Acoustic guitarist and mandolinist Flynn Cohen, originally of Cleveland, Ohio, has performed all over the world with many notable acts in Irish, Scottish, old time, bluegrass and contemporary folk music. When he is not on the road with Annalivia he performs with the John Whelan Band and his solo project The Deadstring Ensemble. His extensive performing credits range from playing with Aoife Clancy, Cathie Ryan, Skip Healy, Joe Derrane and Frank Ferrel to the Vancouver Symphony and the Footworks Percussive Dance Ensemble.
Fiddler Duncan Wickel is a native of Asheville, N.C., now living and working in the heart of Boston's thriving music scene. Duncan's reputation has been growing quickly on a national level as a wildly diverse and highly accomplished improviser and composer. He is sought after for his stylistic mastery of jazz, Irish, old time and bluegrass music, captivating audiences and fellow musicians with his creativity as well as the subtle authenticity and chameleon-like ease in which he blends and changes styles. Among many others, he has performed and toured with the Duhks, Ruth Moody, John Doyle, and the Cathie Ryan band.
Annalivia has recorded three albums, the most recent being "The Same Way Down", produced by Jake Amerding and featuring Crooked Still's Aoife O'Donovan and Corey DiMario as guest musicians.